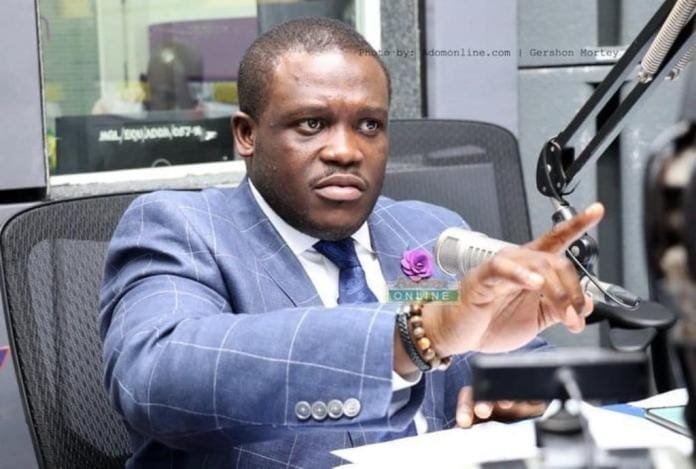 Read Time:
2 Minute, 13 Second
Ningo Prampram MP Sam George has accused the National Peace Council of being "one of the biggest threats to the peace and stability of the country's democracy."
According to him, the Council must be dissolved because of its constant display of "hypocrisy" towards political parties in the country on matters of violence arising from the ongoing voter registration exercise.
"The point has to be made here that an attempt to want to generalize the political temperature rising in the country and say both political parties are involved will be a disingenuous attempt by any group," he told Samson Lardy Anyenini Saturday on Newsfile.
His comments come after the Peace Council urged calm amidst brutalities arising from the ongoing voter registration exercise.
Chairman of the Council, Prof Emmanuel Asante in a statement said the incidents were prevalent among the governing New Patriotic Party (NPP) and the opposition National Democratic Congress (NDC).
He highlighted happenings in the Ejura-Sekyere-Odumase Constituency in the Ashanti Region, Kasoa in the Central Region, Asutifi South, and Tano South Constituencies in the Ahafo Region, as some hotspots.
But Mr George said the Council is being hypocritical if it blames the issues on both parties, especially on the NDC.
I hold a personal view that the national peace council should be disbanded because they are the biggest threat to the peace and stability of our democracy. Reason being the hypocritical stance of that organization. They always seek to make equivalence the basis of their statements.
"This is what has raised the temperature. First and foremost, the MP for Ejura-Sekyedumase Bawa Braimah was attacked by NPP hoodlums and he was nearly crippled.
"The National Peace Council did not find it right to criticize the NPP on that. They waited and held their cool till the murder of an innocent Ghanaian citizen in Banda," he said.
Sam George, therefore, said the Council must be dissolved if it will continue to act unfairly, taking sides instead of playing the middle man.
---
SEND US YOUR STORIES FOR PUBLICATION VIA WHATSAPP NUMBER 0506440219
Get the Ghana Education Service New Standard – Based Scheme of Learning (SOL) HERE
Get the Ghana Education Service New Standard – Based Curriculum HERE
Get the  WAEC Marking Schemes HERE
Get the NaCCA/GES Standard -Based Lesson Plans HERE
Get the WAEC BECE, WASSCE, NTC Licensure Exam and Teachers' Promotion Exam Past Questions HERE
Shall the NDC's Supreme Court Petition on Election 2020 overturn the Declaration?