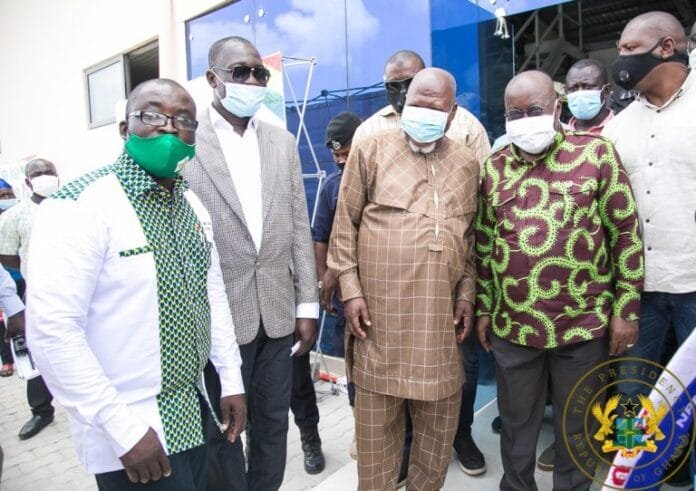 Read Time:
1 Minute, 23 Second
Embattled former Central Regional Chairman of the National Democratic Congress(NDC), Allotey Jacobs was on Friday, August 21, 2020, spotted at the commissioning Eku Juice factory.
On Friday, 21st August 2020, the President commissioned the Ekumfi Fruits and Juices Factory, an initiative of Government's 1-District-1-Factory programme.
The $15 million factory is the first factory ever to be established in Ekumfi and has created some 1,550 direct and indirect jobs.
The Ekumfi Fruits and Juices Factory has been well-planned and well-thought-through, with the raw materials needed for the successful operation of this project already present, and an out-grower scheme in place.
At the event to Commission the much-touted Ekumfi Juice Factory, the embattled Allotey Jacobs was seen in a pose with the President of Ghana, Nana Addo Dankwa Akufo-Addo.
Allotey Jacobs is currently suspended by the National Democratic Congress (NDC) for engaging in what the party says is against its constitution but was spotted at the event which has left many tongues wagging.
Many NDC members have described him as a traitor who prior to his suspension was mortgaging the fortunes of the party for a pittance from the governing New Patriotic Party(NPP)
The John Evans Atta Mills proponent has said that he will actively join the NDC in 2021 when the founder has taken over his political party but for now, prefers to be a social commentator
Shall the NDC's Supreme Court Petition on Election 2020 overturn the Declaration?