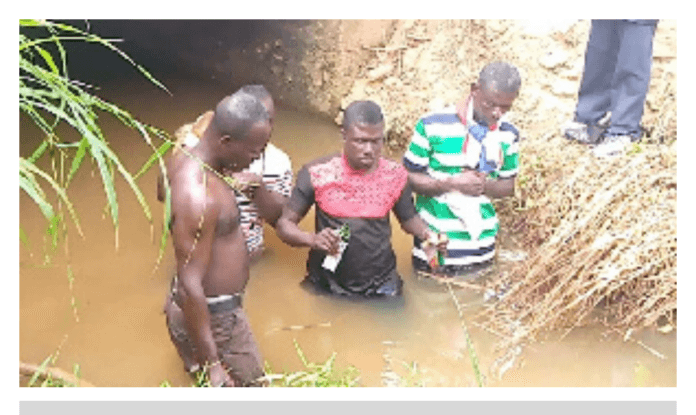 0
0
Some governing New Patriotic Party (NPP) delegates in the Juaben Constituency of the Ashanti Region have invoked curses on the national executives of the party for disqualifying their preferred candidate from contesting in the parliamentary primaries.
The National Executive Council (NEC) of the party, according to the aggrieved delegates who spoke to Kumasi FM's Elisha Adarkwah, disqualified Mr Francis Owusu Achiaw, their preferred candidate and another aspirant without any tangible reason, to pave the way for the incumbent MP, Ama Pomah, to go unopposed.
The delegates, numbering over 200, do not understand why Mr Francis Owusu Achiaw has been disqualified because, according to them, he successfully got vetted in Kumasi.
Unhappy with the circumstances of the disqualification, the delegates wore red armbands and marched to a river called "Asuo Abena" located at Nobowam in the constituency with schnapps and a sheep to invoke curses on anyone who was involved in disqualifying their candidate especially, Mr F.F. Anto, the first national vice-chairman of the party.
Ellis Ferdinand is the Founder of Education Ghana Media Network ,a parent Company of EducationGhana.net ,an Online Education News Blog and Education Television, an Online Digital Television Channel. Ellis Ferdinand is a Graduate of Accra College of Education and the University of Cape Coast respectively, where he obtained a Diploma In Basic Education and a Bachelor of Education in Accounting. Awards Ellis Ferdinand won Blogger of the Year at the 2018 National Students' Awards and was also adjudged 14th Best Ghanain Blogger in 2018 among Top 50 Ghanaian Bloggers of 2018. He introduced the Concept of Education Blogging in Ghana in 2014 with his famous blog EducationGhana.net. His Blog won Best Media Promoting Education in 2017, 2018 and 2019 respectively, an Award organized by Neogenics Education Consult. In 2019, He was adjudged the Most Promising West African Blogger of the Year in Nigeria.
Related