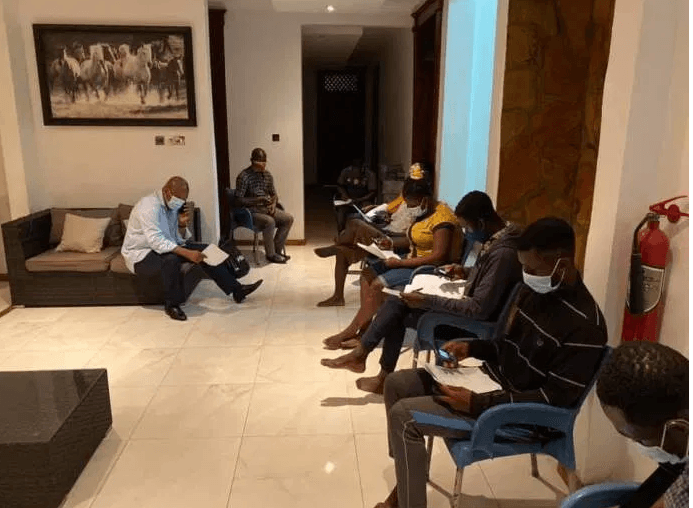 Read Time:
1 Minute, 48 Second
The Member of parliament of the North Tongu Constituency, Hon. Okudzeto Ablakwa in his fight against the COVID -19 has come out to pledge support to 45 private basic school teachers in his constituency after they have been deprived of their livelihood due to the outbreak of the pandemic.
In his Facebook post on Thursday, May 28, 2020, the legislator confirmed direct cash transfers to 659 indomitable teaching and non-teaching staff in his constituency.
"We have this evening concluded direct cash transfers to 659 indomitable teachings and non-teaching staff in my beloved constituency." He said.
The figure according to him comprises some 570 teaching and non-teaching staff from 45 private schools and 89 volunteer teachers in public basic schools who are not on the government payroll.
This MP's initiative to ameliorate the plight of private school teachers who have not received salaries since March due to the COVID-19 induced closure of schools has now been successfully implemented.
The source of funds for the intervention are as follows: MP's Common Fund financed 30%; MP's personal contribution 20%; MP's fundraising efforts from donors accounted for the remaining 50%.
"I express my heartfelt appreciation to all those whose generosity have helped us make this initiative a resounding success. I am eternally indebted to my army of dedicated volunteers who authenticated the data and verified the MoMo transactions. May God bless every one of you greatly." He concluded.
---
SEND US YOUR STORIES FOR PUBLICATION VIA WHATSAPP NUMBER 0506440219
Get the Ghana Education Service New Standard – Based Scheme of Learning (SOL) HERE
National E-Learning guidelines for Pre-Tertiary Institutions Out – CHECK HERE
Get the Ghana Education Service New Standard – Based Curriculum HERE
Get the  WAEC Marking Schemes HERE
Get the NaCCA/GES Standard -Based Lesson Plans HERE
Get the WAEC BECE, WASSCE, NTC Licensure Exam and Teachers' Promotion Exam Past Questions HERE
Shall the NDC's Supreme Court Petition on Election 2020 overturn the Declaration?