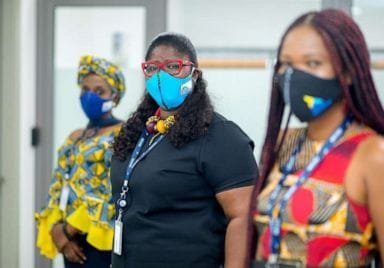 Read Time:
2 Minute, 12 Second
Prices of nose mask sees a huge drop to as low as 4 pieces for 1 Cedi in Ashiaman market in Accra .
The wearing of nose mask became mandatory in the country due to the surge in covid-19 cases and this led to high sales and purchase on the market.
The high demand of the product further led to an increase in prices where a box containing fifty pieces of disposable nose mask was sold for thirty to forty cedis with each per being sold at one to two cedis.
There were even situations where there was shortage of colored nose mask particularly black ones as people preferred it to other colors due to its ability to absorb dirt even though it was being sold at two cedis fifty pesewas then.
Some traders at Ashiaman market who spoke to Summer News said, a box of nose mask which was selling for thirty to forty cedis came down to twenty to fifteen cedis and has further come down to as low as eight cedis and this has made them to sell it at three to four pieces for one cedi.

Some complained that ,even though it is the same low patronage that led to further decrease in prices of the product, they were expecting a change in the purchase to be a bit high as the prices has come to very low level but that has not been the case.
For hand sanitizers most of them said they have stopped selling it as people do not ask of it anymore.
They explained that ,even though they want high patronage of the products , they do not wish for an increase in cases .
They would rather pray for an end to the disease so that they can go about with their normal duties and life.
Most of traders were seen with other products such as mother care products , cutlery sets ,pure water among others as a back up to support them as they said they cannot rely on the money from the sales of nose mask alone especially now that business has gone down.
They urged fellow traders to learn to add other items to what they sell so that if the sale of one declines , the other will be going on to help and sustain them in life.
Even in other works, one has to learn to do back up work so that in case of anything ,they will have something to rely on, the traders said.
PRICES OF NOSE MASK SEES A HUGE DROP TO AS LOW AS 4 PIECES FOR 1 CEDI
STORY BY:DOROTHY ABAKAH- SUMMER RADIO