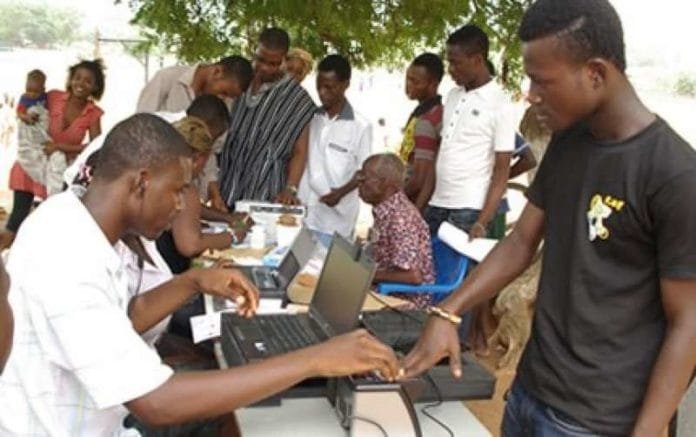 Read Time:
1 Minute, 40 Second
The Electoral Commission (EC) of Ghana has called off a pilot registration of voters on day two and final day of the exercise in the Western Region due to technical challenges.
The EC is compiling the new register ahead of the December general elections over claims the existing register lacks credibility.
The piloting, according to the EC, is to afford them the chance to identify challenges with their systems and fix them before the mass registration begins later this month.
Western Regional Director for the EC, Angelina Tagoe, could not give further details as to why the exercise had been cancelled.
Western Regional Secretary for the NDC, Joseph Nelson told Empire News' Emmanuel Ohene-Gyan the cancellation of the exercise vindicates his party's position that the EC is not ready to undertake a nationwide exercise
"If the Electoral Commission cannot organise a simple pilot exercise in a city like Sekondi, how much more in a village, like Mumuni camp, the EC has simply failed and are not ready to compile a new register with just six months to general elections," he said.
His counterpart from the governing New Patriotic Party and Assistant Regional Secretary, Rex Johnfiah also stated that the party was disappointed in the breakdown of the machines after having a successful exercise Tuesday which saw over 70 people registering.
"We want the EC to extend the exercise because what we observed was that there were no backups", he revealed
Credit: Starr News
---
SEND US YOUR STORIES FOR PUBLICATION VIA WHATSAPP NUMBER 0506440219
Get the Ghana Education Service New Standard – Based Scheme of Learning (SOL) HERE
National E-Learning guidelines for Pre-Tertiary Institutions Out – CHECK HERE
Get the Ghana Education Service New Standard – Based Curriculum HERE
Get the  WAEC Marking Schemes HERE
Get the NaCCA/GES Standard -Based Lesson Plans HERE
Shall the NDC's Supreme Court Petition on Election 2020 overturn the Declaration?